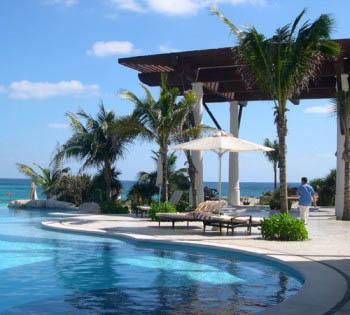 What most folks really need to know, and only manage to figure out once there, is the fact that there are really three different areas all referred to as TULUM only minutes away from each other, not close enough though to walk to and from.
Tulum Pueblo sits split by highway 307 running South-North. «El Pueblo», as referred to by locals, is home to most workers of the tourist industry and where many of the stores, supermarkets, two bus stations, inns, hostels and small hotels are found. This section of town has a definite feel of existing mostly to cater to the Tulum ruins. Tulum pueblo is indeed a destination for shopping, great restaurants, a modest night life, booking tours, banking, shopping for food, local vegetables, fruits, cafes, and local flavor. Do not miss it !.
Tulum Playa nests along the coastline that leads into the Sian Ka'an Biosphere [Ecological Reserve], the Caribbean white sandy beaches to the east, an impressive mangrove & wetland reserve to the south. Tulum Playa embraces many of the fancier, ecological, boutique and spa hotels, and it has a decent to excellent selection of restaurants and night spots. There are also a number of affordable beach front cabana-type lodging locations. Walk the beach and simply step in and inquire about accommodations and rates. You will be surprised and delighted. It should be noted most of these establishments are Eco-friendly and do not provide electricity past midnight. Toilet paper can not be flushed and it is asked that water and other resources be used sparingly. The hotels in Tulum aim to keep Tulum as it is and stop the ecological problems that have already taken hold in cancun and Playa Del Carmen.
Tulum Ruinas is the archaeological site where the Maya ruins of Tulum stand. It is conformed by a-mile-long road leading into the ruins from highway 307. The road is flanked by several restaurants, a commercial area geared to one-day visitors, a huge parking lot, a small bus station that operates part-time and a handful of middle range hotels.»