Cancun possesses in its brochure countless hotels for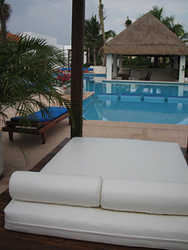 adults in order to make spend romantic holidays with the person you love the most. These kinds of accommodations are categorized between three and six star resorts offering you a wide range of prices, tariffs as well as promotions and discounts in the destination of Cancun.
The hotels for adults of Cancun are distributed all along the city and the beach of Cancun and its surrounders and some of them present the all inclusive plan so as to make you gain access to additional benefits and attributes during your stay at these properties. Come to Cancun and enjoy a romantic magical holidays accompanied by your love.
Sens Cancun: It is a superior four star lodging which is located 20 minutes away from the International Airport of Cancun and features 58 minimalistic guestrooms for you and your couple. You will be able to rest in one of these rooms from $127.
Le Blanc Spa Resort: This five star property is situated 25 minutes away from the International Airport of Cancun and 15 minutes away from downtown. It offers you comfortable and luxurious guestrooms from $ 567.