Cancun possesses in its brochure luxury hotels for you to stay at. These incredible properties present elegant features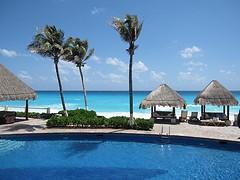 and magnificent details that will take your breath away. Moreover, you will be offered the all inclusive plan in some of these resorts so as to make you gain access to extra benefits in the destination of Cancun.
The Luxury hotels of Cancun are categorized between superior four and six star resorts and distributed all along the city and its extensive beautiful beaches. You can select the proper hotel where you will be able to lodge and spend unforgettable holidays in this amazing destination of Cancun.
The Royal in Cancun: It is a six star resort that is located 30 minutes away from the International Airport and boasts 285 comfortable guestrooms. You can get a room from $451.
Cancun Caribe Park Royal Grand: This superior four star hotel is situated 30 minutes away from the Airport and possesses 312 spacious rooms. You will be able to rest in one of them from $88.
"The picture Luxury Hotels Cancun belongs to JOE M500 under a Creative Commons License"