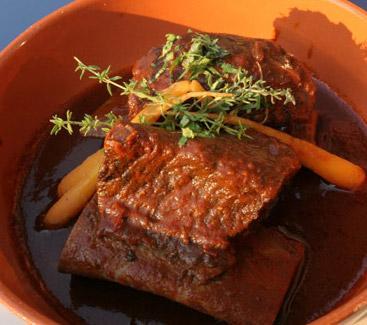 Birria, tortas ahogadas, and chilaquiles are some of the most traditional dishes in Guadalajara. The food court in the Mercado Libertad is good place to sample the variety of local specialties.
* Birria Birria is a savory stew made of roast chiles, spices and traditionally goat, though you will usually be given other meat options like mutton or beef depending on the restaurant. For Birria, the restaurants in the Nueve Esquinas area (a few blocks South of Templo San Francisco) are quite popular (and quite good).
* Tortas ahogadas: these are sandwiches of carnitas and beans on a french style roll drowned in a savory chile and tomato sauce. Numerous restaurants in the Centro Historico specialize in these.
* Pozole: A hearty soup of pork and hominy topped with fresh cabbage, radish, onion and cilantro. There are some very good pozole stands in the food court of the Mercado Libertad.
* Mollete: A popular local breakfast food. A french style roll split and covered with refried beans then topped with ham or chorizo and cheese and toasted.