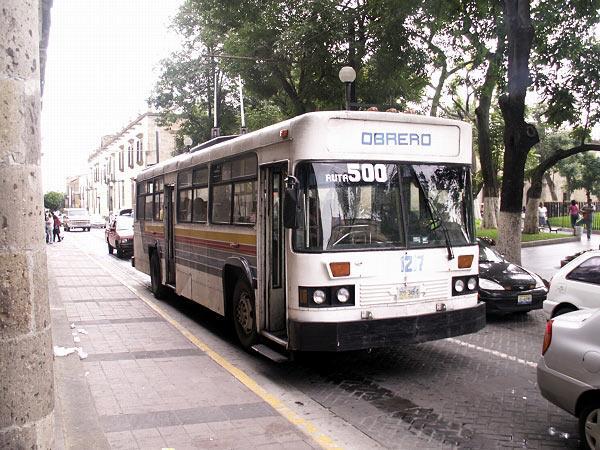 Dozens of bus routes provide transportation around the city. As of March 2008, regular busses cost five pesos; there are also luxury buses (Turquesa, Tur and Cardenal) costing slightly less than 1 dollar. Look on the front window of the bus to see where it will go, and ask the driver if you're uncertain. You can also purchase a route map (the Guia Roja Red Vial Ciudad de Guadalajara is one option, or ask at any magazine stand or one of the tourism kiosk downtown for a book with bus routes). Riding the bus also provides a good chance to see different parts of the city and get your bearings. Note that bus drivers will make change within limits, though after even a day in GDL you will find more 10 peso pieces in your pocket than you can dispose of.
One particularly useful route for getting back and forth between the Centro Historico and the Zona Rosa – Minerva area is the Par Vial Route. Westbound it travels along Av Vallarta and Eastbound along Av Hidalgo. In the Centro Historico you can catch it on Hidalgo up to the East side of the Plaza Liberación, where it makes the turn to head up to Independencia and back West.
There is also an open top double-decked tour bus (TuriBus) that leaves from the Rotunda and will take you past all the main sites on Guadalajara, Tlaquepaque and Zapopan and will also allow you to ride it all day, getting on and off as you will.