In Cozumel, you can come true your desire of swimming with dolphins. This is the perfect spot for making t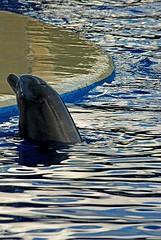 hese kind of tours in which you will be able to know bottle nose dolphins and everything about them. You will be capable of interacting with them in their own habitat as well as sharing time with these lovely mammals in Cozumel.
Dolphin Interactive Adventure in Cozumel includes professional guide and a brief introductory speech. Children under the age of 10 and pregnant women are not allowed to do the outing for safety reasons. The excursion operates from Monday to Saturday in Dolphinaris Cozumel which is located between 17 and 19 Streets and you must be there 30 minutes before the tour begins. The admission charge is $99 for children and adults. Come to Cozumel and explore this magnificent tour of swimming with dolphins.
The picture Dolphins Cozumel1 belongs to nexus6 under a Creative Commons License