Cancun Caribe Park Royal is one of the superior four star hotels that belong to the brochure of Cancun. It is a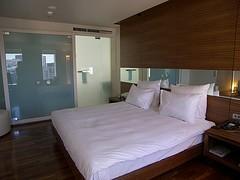 fantastic resort which offers you luxurious amenities and deluxe installations for you and your family. This magnificent hotel is located 30 minutes away from the International Airport and its guestrooms go from $88.
Cancun Caribe Park Royal Grand Hotel in Cancun counts on 312 elegant guestrooms; an infinity swimming pool with an outstanding view of the Caribbean Sea; gym where you will be able to be in shape and train during your stay at Cancun; business center with all the amenities that you may need; massages for being relaxed enjoying your holidays in this paradisiacal destination; babysitter who will look after your children. Come to Cancun and enjoy the comfort this hotel has to offer you.
"The picture Beach Hotel Cancun belongs to jezuez471 under a Creative Commons License"