Cancun possesses in its brochure beach hotels all along the extensive area of the Caribbean Sea. These kinds of accommodations are categorized between three and six star hotels providing you with the best benefits as well as attributes and facilities for you and your family.
The beach hotels of Cancun are completely prepared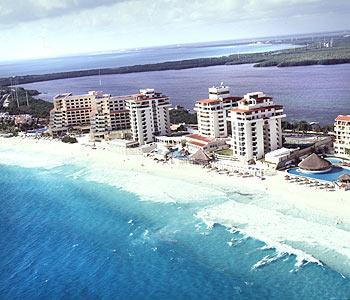 for receiving any kind of tourists even the most demanding guest in order to make you feel comfortable. Some of these resorts offer you the optional all inclusive plan so as to gain access to additional services. Come to Cancun and enjoy the most panoramic view of the sea that will take your breath away.
Caribe Real Resort & Spa: It is a superior four star hotel which is located 30 minutes away from the International Airport of Cancun and boasts 470 beautifully equipped guestrooms. You can get a room from $356 and offers you the all inclusive plan.
Holiday Inn Cancun Arenas: This is a four star property which is situated 25 minutes away from Cancun International Airport. It features 214 spacious well appointed rooms for you and your family. You will be able to rest in one of its rooms from $90.