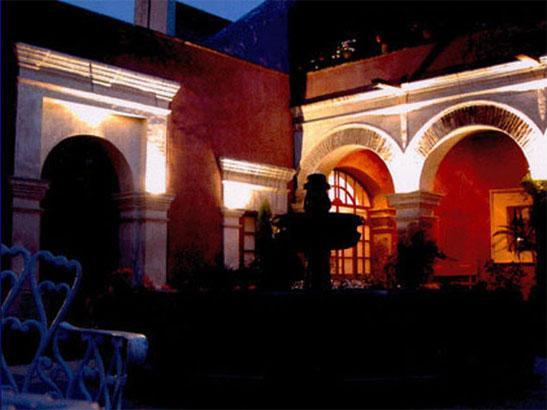 The town of Cholula, located at six miles from the colonial city of Puebla is thought to be Mexico's oldest continuously-inhabited conurbation. La Quinta Luna, a beautiful boutique hotel just three blocks from Cholula's downtown, is a 17th century mansion that was once home to an indigenous nobleman.
This small, intimate, hotel offers guests a very personalized service and a true feeling of tranquility, with its peaceful courtyard and charming decor. All of the rooms face a central courtyard where you may relax or take a beverage or meal in the peaceful gardens teeming with colorful local flora and fauna.
All rooms feature a flat-screen TV, DVD player, telephone, and wired high speed internet. You'll also find a Mini Bar, and complimentary coffee and tea making facilities in the room. Two rooms offer a Jacuzzi (Aguila Real and Presidential Suite) and all rooms are adorned with fresh flowers for your stay. The rooms themselves are beautifully appointed proffering all facilities and modern comforts appreciated by discerning travelers.
The beds and linens provide sumptous comfort and rest, while the colonial-style bathrooms and showers expertly blend original materials with the most modern facilities and top-of-the-range bathroom amenities.
Every first Sunday of the month, the hotel hosts a live classical or jazz music concert in the Old Chapel.  The owner and manager, Regina Cardenas, also arranges local tours the nearby villages, and she can put you in touch with local artists and purveyors of fine Talavera, the hard-wearing and beautifully-crafted ceramic material renowned and sought-after in this region.
Weekends at La Quinta Luna are often booked up in advance so, if you itinerary allows, visit in the week; or book your weekend stay well-ahead of time to secure a room here.