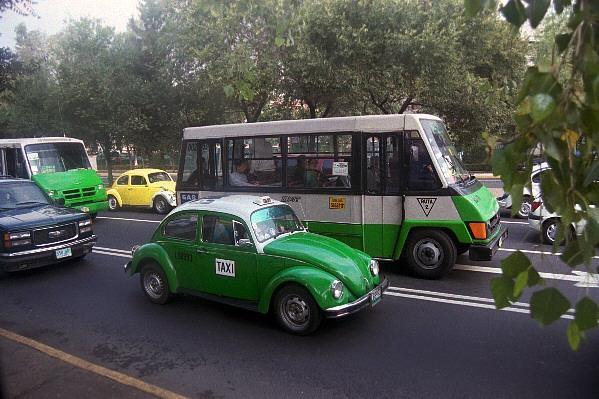 Many buses go from major cities (e.g. Mexico City) to Acapulco. Most buses are safe, fast and comfortable and usually not very expensive. Some bus lines offer student discounts. The Estrella de Oro bus line offers nonstop trips from Mexico City with first class service – roomy seats, ride attendants, snacks and drinks, and free movies (The Lake House and Superman Returns on a recent trip.) A regular Estrella de Oro (double-decker) one-way ride is 320 pesos, while upgraded VIP bus service is 480 pesos; VIP service includes a marble lounge inside the regular Acapulco bus terminal with TVs, drinks, and newspapers. Depending on the bus, the ride takes 5 – 5 1/2 hours in comfort. Be warned, they search you and pat you down for weapons before leaving.
There is a modern four lane highway from Mexico City to Acapulco (Autopista del Sol). It is somewhat expensive, but will take you there in 3 and a half hours, approximately, if you don't stop on the way. The Autopista is not continuous; there is a break in two sections where the road is rougher, so a car with good tires is a must. However, before you decide to drive to Acapulco, remember that traffic and parking in the city are difficult.
Ground transportation from the Alvarez International Airport (ACA) to the major tourist area of La Costera takes more or less 35 minutes. Round trip fares depending on the season and class, range from USD$23.00 to USD$50.00.