Hotels in El Parque Eco Arqueológico Xcaret , Vacation Packages El Parque Eco Arqueológico Xcaret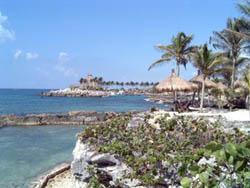 In 1984 the architect Miguel Quintana bought this place because he was captivated by its beauty and he wanted to build a house there where he was going to live; but when the construction was starting he saw a few cenotes, and because of that he realize that this beauty it shouldn't be destroyed and everybody should have the privileged of seen it. So with this idea he and in association with the brothers Oscar, Marcos and Carlos Constandse started the project of this park. They started to work together and in December of 1990 the park opened: a family park and with attractions for people of all ages.
This park shows all Mexican's wealth, its fauna and flora, the Maya culture, archeological tours, aquatic activities and the opportunity of living experiences as Swimming with dolphins.
Here there are archeological zones that will invite you to know and get into the Maya culture and have a better knowledge of this ground.
The best aquarium you will see in this area it is in Xcaret, it is really amazing and particular. It has a varied marine life with views of many coral reef and the most impacting and sweet creatures ever, the dolphins.
If you want to spend a very good vacations with your family, and have fun as the same time you learn about our history, you must visit this park it is worthy.
Select the hotel of your choice and build your own Vacation Package in [DESTINATION]