Los Cabos's inside rout / Los Cabos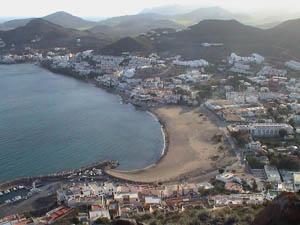 The tour start in San Jose del Cabo, when you meet the different species of birds, turtles and mammal maritime in the San Jose del Cabo's Estuario, that are in the heart of the municipality. Count with over 150 bird's species and too many examples of flora, this tour you can do it in kayak. When you go out, take the Blvd. MIjares and go on until the Municipal's palace a construction of the finals of the XIX century. Close to it there is the main square, a nice, and picture place where you will taste a delicious candy, called snow, make with station's fruits.
Take this point as a reference of where to start to arrive then in Cabo San Lucas, keep going trough the rout, from where there will be possible for you to admire the golf fields located in front of the Cortez's sea, until you arrive to the Arch. If you arrive there before the sunset, stay in the Love's beach to admire it. If the sun day allows you, visit the Old Lighthouse, which is a monument of 1890, located in Cabo Falso, 19 km from Cabo San Lucas
You can go to Todos Santos, a city located 78 km at the north of Los Cabos, where you will admire the color of antique big houses with the Nuestra Señora del Pilar's Mission, the principal architectonic monument in the region. In the south, you can walk trough the beaches and look at the Pacific Ocean, an ideal sea to practice sporting fish of species as cabrilla, barrilete, shark, bargo, etc. ; or you can take a ride with a launch and visit the colonies of maritime wolf which are famous in this place.
When you come back you can cross trough Cabo San Lucas and San Jose del Cabo, and continue the tour, but now for the route that will take you to the peninsula to Barriles and Buenavista populations, this place is perfect for a walk trough the beach and a refresh in the sea. Close to it there is "La Playita" a place famous for prawn stew and the first level fish. After a little rest, take 9 route to northeast and connect to 1 way, there will find and spherical structure, better known as "Cancer Tropic's Monument" because it's the exactly place where that tropic cross trough the Mexican's geography.
If you keep going trough La Paz, you can not be there and not visit "The Whale's Museum", where many whales' examples are shown; the museum it's on Manuel Altamirano's street. This is the capital of South Baja California.