Cancun´s beaches are the best excuse for visiting this amazing city. Its turquoise water and golden sand are incredible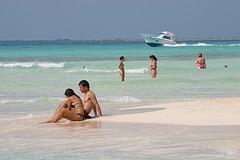 natural sceneries that you must visit during your trip to Cancun. Moreover, you will be able to book a room in any of the beach hotels which are located at the shore of the Caribbean sea.
In the beaches of Cancun, you will enjoy long walks throughout the beach, practice different sports as well as spending time with your family playing with the sand and the waves in its war waters. Come to Cancun and visit this paradise in the Mexican Caribbean.
"The picture Cancun Beach belongs to dolanh under a Creative Commons License"