Real Playa del Carmen is a four star hotel which offers you excellent services and facilities for you and your family. It presents amenities for every type of tourists from adults to children due to the fact that it possesses many different places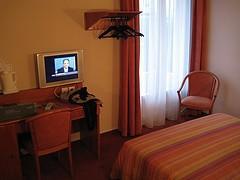 for having fun. This lodging will provide you with the all inclusive plan for making you gain additional benefits. Real Playa del Carmen is located 45 minutes away from the International Airport of Cancun and you can get a room from $94.
Real Playa del Carmen Hotel in Playa del Carmen presents comfortable guestrooms for you and your family; playground where children will play the whole day; swimming pool for spending relaxing and refreshing times; spa for those guests who want to relax; tennis court in order to play your favorite sport; internet access for those tourist who want to surf the net; babysitting service for looking after your kids; room service for you and your family between 7:00 a.m. to 11:00 p.m. Come to Playa del Carmen and stay at this fantastic familiar hotel.
"The picture Playa del Carmen Hotel 1 belongs to diebmx under a Creative Commons License"