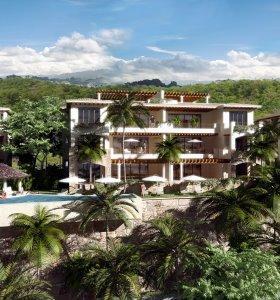 Just slightly east of Acapulco, Huatulco Bays  seem to have slipped under the radar screen for many years. Along a 22-mile of open coastline sit nine bays: one of them, Tangolunda Bay, will soon be home to Encanto Villas & Residence Club – a private residence club with breathtaking beachfront views of the Pacific Ocean.
With the most extensive coral reef system in the Pacific coast, Huatulco's beaches offer snorkeling, scuba diving, fishing, boating, or good  relaxation. The nearby Sierra Madre Mountains lure adventurers with kayaking, whitewater rafting, and waterfall-laden jungle tours. Now families can own an exclusive portion of this paradise without the hassle and risk associated with the purchase and upkeep of traditional second homes. Amenities include a private beach club, a fine dining restaurant, several pools, boat dock, fitness center and spa, and a club concierge.
The residence club concept is growing in popularity as people discover the flexible and carefree lifestyle this type of vacation home offers.
Encanto Villas & Residence Club is expected to open in winter of 2009. Currently, visitors can fly direct to Huatulco from Houston and Mexico City. Direct flights from Monterrey are starting this month.